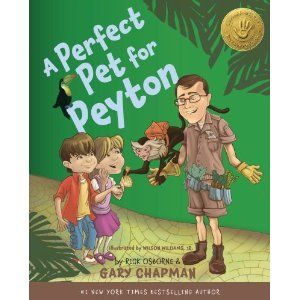 The wonderfully imaginative children's hardcover book by bestselling authors Gary Chapman and Rick Osborne, featuring four - color illustrations (with hidden details) by Wilson Williams, Jr., will help children learn the importance of love. Based on Gary's highly successful book The 5 Love Languages, The Perfect Pet for Peyton tells a playful an entertaining story of 5 children who each, with the help of Mr. Chapman and the unique pets at his special emporium, discover their own personal love language. Children and parents alike will experience firsthand the power of the love languages as they cuddle as they spend precious time together reading this book over and over again.
The Creative Learners Take:
We love it! My children are a little old for this book, however, my 12 year old and I did sit down with this book together, and read this story together. We enjoyed this sweet story.
We follow a set of twins on their birthday, as they head off to their birthday party at the Perfect Pet Pal Emporium with their friends, where each of them, will not only have a fabulous time at the party, additionally, they will each go home with their perfect pet pal!
As they spend their time at the emporium, the children interact with each other, and with the animals. Towards the end of the party, Mr. Chapman, explained to the children how each of us have a love language that we prefer. As Mr. Chapman worked with each of the children, he showed us, and the children what their preferred love language is, and match them with the perfect pet pal.
Peyton, was unsure if there was a perfect pet pal for him, in the end, he was so pleased to find that there was!
In addition, the book is beautifully illustrated! Throughout the book the children are encouraged to find hidden pictures, which really adds a fun and interactive element to the book. At the very back of the book, there is a Love Language Quiz that will help you child discover what their own Love Language!
You can learn more about A Perfect Pet for Peyton at their website and more about all the Love Languages products by visiting here.
You can even follow Gary Chapman on Facebook and Twitter.
A Perfect Pet for Peyton is available at several booksellers, visit the 5 Love Languages website for a list of retailers.
Now here is some really exciting news
I have one (1) copy of A Perfect Pet for Peyton to giveaway! Enter today!
a Rafflecopter giveaway
"Disclosure of Material Connection: I received one or more of the products or
services mentioned above for free in the hope that I would mention it
on my blog. Regardless, I only recommend products or services I use personally
and believe will be good for my readers. I am disclosing this in accordance
with the Federal Trade Commission's 16 CFR, Part 255: "Guides Concerning the
Use of Endorsements and Testimonials in Advertising."