So, as I am in the stage where I am parenting 1 tween and 4 teens, some might think that one would be able to put it on cruise control. Especially if you have been consistent with your parenting over the years, however, that could not be further from the truth.
We Choose Virtues
is here to help you reach the heart of your child whether they are 3 or 18... And isn't that what the ultimate goal is anyway?
What I have found as I parent these wonderful teenagers, is that I am having to revisit the very things that we had previously 'mastered'. I think that part of that is the fact that they are spreading their wings, and trying to assert their independence. In our family we have studied and gone over Biblical Character Traits many times, however, a refresher course was needed by all.... even by this momma!
I had the opportunity to review
Virtue Clues Cards
, and it has been such a blessing. This handy little set of flashcards you can take with you on the go, but we did not do that.. we simply used them at home.
We began by simply going over each of the cards, we read them, and then talked about each of those virtues. We then talked about if we thought we needed to work on that particular issue. We were able to discern together what areas needed more work than others. How we decided to move forward, was to go through and work on a card every couple days.
To take it to the next level for my high schoolers, is to included research. We pulled out our Nave's Topical Bible, and we would look up the virtue listed on the card, and look up verses that discussed that virtue. We would look at how God looked at people who exhibited said virtue and the blessings of living a godly life. We also looked up how God looked at people who struggled with that virtue. This was a very eye opening exercise for my children. It helped to instill that the behavior I would address, was not something I was asking them to do, to make me happy. But, it actually was a character trait of godly living.
I am so very thankful that God left us a roadmap, the Holy Bible to help us on our journey, and Virtue Clue Cards, helps to direct us to God's Word and we help our children understand God's Word.
You can pick up Virtue Clue Cards for $5.99. Please visit We Choose Virtues for their complete line of products, including both homeschool kits, and Sunday School kits. If you are wanting to decide which We Choose Virtues product is right for you family, check out their
product comparison chart
to find the perfect fit!
Please visit the
crew blog
to see what my crew mates have to say about Virtue Clue Cards.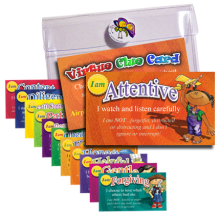 **Please Note - I received Virtue Clue Cards for free in exchange for my honest opinion. No other compensation was offered or accepted. Views presented here are mine alone, and do not imply guarantee of promise of service.