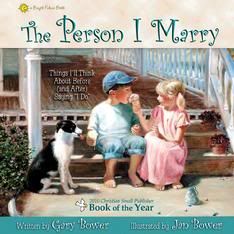 What a wonderful treat The Person I Marry, by Gary Bower has been to read. This 'picture book' is wonderful for all ages!  And that is because of the content. This is not a silly picture book for the toddler set. Though, your toddler would benefit from learning these principles contained within the pages of this beautifully illustrated book!  The Person I Marry, however, I would say, is a book that will help future husbands and wives make the the most important decision of their married lives. Choosing a spouse!
In the world around us, our children are often sent confusing messages on what is the kind of person they should marry. Throughout The Person I Marry, the reader is guided to look at the quality of the charcter of the person above all else.
The Person I Marry
, is filled with gems throughout, here is my favorite page! I feel as though these characteristics are so very important!
Watch this quick video, to hear excerpts from the book, and to see some of the beautiful illustrations.
[vimeo]http://vimeo.com/20345737[/vimeo]
A Great Wedding Gift for the Happy Couple!


(Give an adorable book instead of a card that will be thrown away!)


An Amazing Character-Building Tool for Kids!
(Remind your children that the INSIDE matters more than the outside!)
An Excellent Conversation-Starter with Teens!


(Discuss important topics in a NON-THREATENING way!)
You can purchase The Person I Marry by visiting the
Bower Books Website
. This hardcover book, is available to $11.99.  While you are on the Bower Books website, please take some time to peruse their entire line of products.
You will find that each of their books are filled with heart! With your families best interest in mind! You can be sure that these treasures will help edify your child and your family!
Their other titles include:
What do Hero's Wear?
There's a Party in Heaven!
And wonderful board books -
Mommy Love
and
Daddy Love
Bower Books even offers Free Shipping of orders of $30 or more and, you can even request an autographed copy!
Take a moment to visit the
Crew Blog
to see what my Crew mates have to say about this precious book!