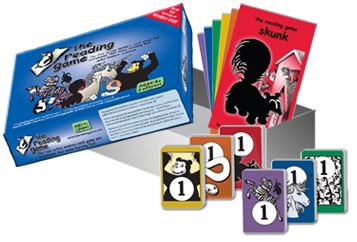 I LOVE IT!!!!  I can't contain it until the middle of the post! I had to tell you right off the bat,
The Reading Game
is awesome!!
The game is designed for children ages 4 and older. I did not intend on using this game with a small child, but I intended to use this game for a few of my special needs students who are just really struggling!
I am so very pleased with the results. The Reading Game consists of 6 levels of playing cards and 6 reading books, as well, as the instruction book, that you will need in order to play the game.
So how does this game work? Within each level of cards ( Red or Skunk or Book 1) , there are 6 levels of cards. You and your student play one level at a time, which consist of 10 cards. You lay them down in 'Match Game' fashion.  You and your student take turns flipping cards. When you match the cards you say the word out line a couple of times, clearly. You play level one and level two. Playing each level until your student has mastered those words. When you feel they have mastered those words you have them read the 'test sentence' that is in the instruction booklet. You continue in this fashion until all six levels of cards in that level (Red or Skunk or Book 1), you then you have the child read Book 1.
You can see here a bit about how to play the game.
[youtube]http://www.youtube.com/watch?v=3b8MSdDhy-c&feature=channel_video_title[/youtube]
Here is what I found. When my student used to work on reading, they would read in a sing song fashion, almost whining. No matter what we did. However, this time around, they read pronouncing the words clearly and with confidence. This is a HUGE improvement. When we completed one level, they eagerly asked to play the next one! This is BIG!
Whether you are working with a brand new reader, or a reader with special needs, The Reading Game can help.  Each of the six stories introduce the student to 30 new words.  The creators of the Reading Game believe that ANYONE CAN LEARN TO READ. Some may take longer than others, but through this method, that will hard wire these words into their brain, they will indeed learn to read.
[youtube]bk14uLy5Jck[/youtube]
The Reading Game
is available for $24.95 and would be a wonderful addition to any homeschool or family that has a student who is learning to read!
Take some time to check out the
crew blog
to see what my crew mates have to say about The Reading Game!
***
Note: I received a free copy of The Reading Game in exchange for my honest opinions of the product. No other form of compensation was offered or received. These opinions do not constitute a guarantee or promise of service.